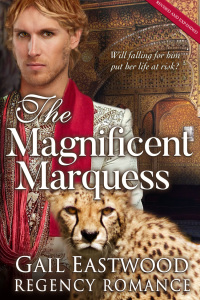 (Extended Author's Cut Edition — ebook rerelease.)
Buy it for your Kindle!
Buy it for your Nook!
Buy it from Smashwords!
What if falling in love meant the death of the one you cared for?
Haunted by his past in India and determined to live by his own terms, Reinhart Maycott, the new Marquess of Milbourne, has reluctantly come to London to take up the responsibilities of a title he never wanted or expected to have. Convinced that allowing someone into his heart means death for them, he is determined not to fall in love or marry ever again. He doesn't welcome the adulation his vast wealth, power, and handsome looks inspire among the ton. He challenges their rules and adulation with his eccentric behavior until whispers of dark secrets begin to circulate about him. But can the course of true love be stopped?
Dutiful baron's daughter Mariah Parbury never thought her curiosity would put her at odds with her own family, but once she meets the marquess she seems to step ever deeper into the briars. She knows Lord Milbourne cannot be for her. But her unquenchable thirst for knowledge about India leads her into a dangerous quest, first to discover more about his fascinating life, and then to break down the walls around his broken heart. Her efforts turn her into a rule-breaker she hardly recognizes. A secret friendship and a sham betrothal complicate matters (along with a boy and a very big cat). Will her path lead to love, or to heartbreak and scandal? Or will it cost the highest price of all, her life?
Originally published August 1998
The original SIGNET REGENCY cover: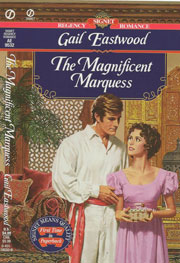 Save
Save
Save
Save