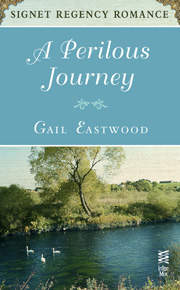 (Berkley/Penguin Intermix,
May, 15 2012
Originally published July 1994, Signet Regency
Buy it for your Kindle!
Buy it for your Nook!
Story:
Beset by troubles, a young runaway and her twin brother are helped on their journey by a handsome stranger who they later learn is the Earl of Brinton. Crowded inns, bad weather, thieves and Bow Street Runners in pursuit are not enough to stop either the growing attraction between Gillian Kentwell and the earl or the trio's progress across the miles to Scotland, where Gillian hopes to find freedom and a new life. But will even greater setbacks ahead shatter the fragile trust forged on the road and destroy their chances for happiness?
Excerpt from Chapter 2
Excerpt from Chapter 8
Winner of the 1994 Golden Leaf Award "Best Regency" and finalist for CoRWA's Award of Excellence
Also, winner of two national competitions for Regency Romance writing:
–"Top 'o the Trees" Competition sponsored by The Regency Plume
–"Romancing the Novel" Competition, Regency Division, sponsored by NE Ohio Chapter RWA
"A delightful read …jam-packed with enchanting characters and lively drama." –Affaire de Coeur
"A scintillating debut … charms us with her sparkling storytelling." –Romantic Times
"A delight…the ever-northward journey through rural England fascinates the reader." –The Paperback Forum
The Original Signet Regency Cover: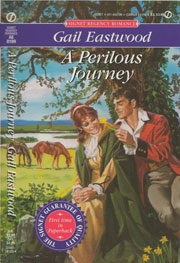 Save
Save