One of my newest endeavors is an alliance with seven other Regency authors I think you'd enjoy –we're calling ourselves the Bluestocking League! We all write "sweet" Regencies, but of course the stories and styles are unique to each of us. New releases, special sale prices and any other news will be shared on all of our websites. We're also making plans for more fun projects, such as a round robin of excerpts from each of us on specific Regency topics and tropes. Be sure to check back!!
A Taste of Traditional Regency Romances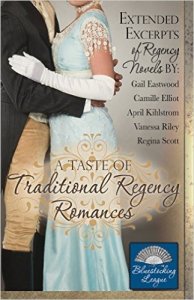 Extended excerpts from Regency novels
FREE sampler ebook!
Get it on Kindle, iBooks, Nook, Kobo
From some of the most beloved authors of Regency romance come stories to delight. These excerpts, set in the time of Jane Austen, will give you a sip of sweet romance and will leave you eager for more.
Bluestocking League Author Links: