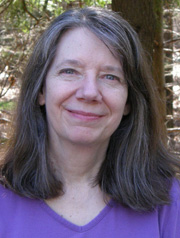 A native New Englander, Gail Eastwood spent almost twenty years writing as a journalist, theatre critic and PR consultant, among other jobs, before she finally sat down to write and sell her first novel, achieving her childhood dream. That first book was recognized with several honors including The Golden Leaf Award for Best Regency, 1994. Since then her books have been nominated for numerous awards, and for two years in a row Gail was one of Romantic Times Magazine's nominees for Career Achievement in the Regency category.
Hailed by reviewers as brilliantly versatile and a master at painting pictures of Regency life, Gail was enjoying a growing reputation as a writer who pushed her genre to new levels with the emotional depth and original plots in her books. Family health issues took her out of the field for ten years, but now she's back! She taught Writing the Romance for Brown University, and continues teaching writing and doing editorial coaching. She holds a B.A. in Comparative Literature and Sociology from Case Western Reserve University in Ohio.
Gail lives in Rhode Island with her actor/attorney husband, two sons, and the family cat. She loves writing and researching, but stubbornly refuses to give up her interests in theatre, dance, costuming, the medieval period, and of course, the beach, even though she now has no time!